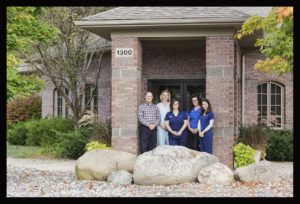 *For our address and directions please click on the "Directions" tab. Please read direction information carefully!!

The Animal Ophthalmology Center is a referral, small animal hospital which specializes in diseases of the eye in animals. We are located in Williamston, MI and provide comprehensive eye care for animals in a comfortable setting employing the most up-to-date equipment and facilities with the most advanced team of eye-care specialists. Our goal is to provide the highest care available to animals referred to The Animal Ophthalmology Center.
---
Regular Office Hours:
Monday 8am-4:30pm** Outpatient appointments start at 9am-4:15pm

Tuesday & Wednesday 8am-4:30pm** Surgery appointments only
Thursday 8am-4:30pm** Outpatient appointments start at 9am-4:15pm
**PHONES ARE TURNED OFF BETWEEN 11:45am-1pm** for a staff break
CLOSED Friday-Sunday
---
For NEW patients appointment requests (we have not previously examined the patient within the last year): we are at our maximum daily capacity for one doctor, and to maintain a safe level of patient care, we have to set a daily limit on how many patients can be scheduled and/or worked in. Our schedule is currently booked 6 months out for NEW patients. Because we have a small staff and only one ophthalmologist on staff, we cannot accept any more new patients at this time. If your pet cannot wait for our schedule to reopen, please call your referring veterinarian for a referral to another ophthalmologist in the state. We can also forward you these phone numbers. Please call/text: 517-655-2777 or send an email to:animaleyes1@gmail.com and we will send the complete list.

For CURRENT and established patients currently undergoing treatment, and who do not have an appointment already scheduled: Current patients (that have been examined within the last year), will receive priority for appointments. We will have to determine appointment "work-in" eligibility on a case-by-case basis if those patients can be worked into our schedule and how soon. Please call 517-655-2777 or send an email to:animaleyes1@gmail.com
Current curb-side protocol is as follows:
**Updated January 2022**
We are still choosing to offer "curb-side" service ONLY for all appointments and medication pick-up orders until further notice

and are not allowing clients into the building (see #2). We have decided that this is the safest decision for our clients and staff members and for our one doctor on staff. Our staff will be wearing masks when we approach your vehicle. We would appreciate if clients would wear a mask as well. We will bring your pet inside for the exam while you wait in your vehicle. Curb-side service will apply to ALL clients until further notice.

You may access the restroom at any time while you are here

by following the sidewalk to the left of the front door and enter thru the side door on the SW corner of the building on the Grand River side. Please wear a mask into the building and practice social distancing and hand washing.
All pet's must be on a leash or in a carrier to prevent contact. For canine patients, we will come out to your vehicle with our own leash. For feline patients, please sterilize your pet's carrier before the appointment.
CALL: 517-655-2777 that you have arrived and what vehicle you are in. A technician wearing a mask will come to your vehicle to bring your pet inside for the exam while you wait in your vehicle. 
We will provide a phone consultation with Dr Ramsey and a written discharge summary once the appointment has been completed.
A staff member will complete the check-out process over the phone and then bring out your medications, discharge instructions and receipt.

FOR MEDICATION PICK-UPS:

PLEASE CALL/TEXT 517-655-2777

AND WE WILL RESPOND ASAP WHEN YOUR MEDICATION IS READY. WE WILL REQUIRE A CREDIT CARD NUMBER to process the order. We will place the medication inside our vestibule at the front door on a table. As always, we can mail medications if preferred but mail service has been very unpredictable (can take 2-7 day on average but has taken as many as 14 days) so please order medications at least two weeks before you will need them.
WE CAN'T THANK OUR WONDERFUL CLIENTELE ENOUGH FOR YOUR PATIENCE AND KINDNESS AT THIS TIME WHILE WE WORK TO CARE FOR YOU PET'S!!
ATTENTION:  If you are sick in anyway, or are displaying symptoms of Coronavirus, or if you have been exposed to another person that is infected, PLEASE CANCEL YOUR PET's APPOINTMENT.
•••
2022 Office Closures:
Thursday May 26th-Mon May 30th-Memorial Day Holiday
Mon July 4th-Thurs July 7th-Independence Day Holiday
Thursday Sept 1st-Monday Sept 5th-Labor Day Holiday
Tuesday Nov 22nd-Thursday Nov 24th-Thanksgiving Day Holiday
2 WEEK CLOSURE: Monday Dec 19th-Monday Jan 2nd-Christmas & New Year's Day Holiday
---
"…that light shall prevail over darkness…"
-motto of the American College of Veterinary Ophthalmologists