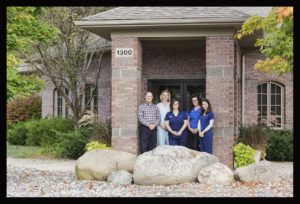 The Animal Ophthalmology Center is a referral, small animal hospital which specializes in diseases of the eye in animals. We are located in Williamston, MI and provide comprehensive eye care for animals in a comfortable setting employing the most up-to-date equipment and facilities with the most advanced team of eye-care specialists. Our goal is to provide the highest care available to animals referred to The Animal Ophthalmology Center.
COVID-19 (Coronavirus) CLIENT INFORMATION
We are currently open to see our scheduled appointments and fill medication orders. However, we are limiting appointments and reducing our staff at this time to reduce staff and client interaction. Therefore, we may be running slower than usual or may not be able to answer the phone or emails in a timely manner. We are still here for you and your pet and we thank you for your patience.

As health care professionals, we believe we have a role to play in preventing the spread of the COVID-19 virus. Our office will be closely reviewing our appointment schedule. If your pet has a non-urgent appointment scheduled in the next few weeks, our office will be in touch to help reschedule your appointment.

Business Hours:
To be determined day to day:

Thurs March 26th 8am-4pm
Mon March 30th 8am-?
CLOSED Fri-Sun 
ATTENTION:  If you feel sick or are displaying symptoms of Coronavirus, or if you have been exposed to another person that is infected, PLEASE DO NOT ENTER THIS FACILITY.  Please return to your vehicle and call The Animal Ophthalmology Center (517-655-2777) from your car. 
If you are healthy, please enter for your pet's appointment or to pick up medications, and  
Use hand sanitizer provided at the front desk at upon your arrival
Please minimize the number of people coming to the appointment and into the clinic. We are asking that only ONE person comes into the clinic and into the exam room with their pet.
Practice social distancing—avoid physical personal contact / interactions with other clients and personnel (maintain a distance of 6-feet from others). Avoid shaking hands
Please do not bring and leave pet belongings at our facility.
We want to remain available to provide eye care for your animals. We appreciate your assistance in helping us to protect our Staff members and their families, and clients who are at increased risk of severe complications. Thank you for observing these safety policies.  As new information emerges, we are committed to keeping you informed and educated about our role in preventing Coronavirus in our community.  Please feel free to contact us if you have any questions.
 

Regular
Office Hours:
Monday 8am-5pm Outpatient appointments only

Tuesday 8am-9:30am Outpatient appointments ♦ 10 am-5pm Surgery
Wednesday 8am-9:30am Outpatient appointments ♦ 10 am-5pm Surgery
Thursday 8am-5pm Outpatient appointments only
CLOSED Friday-Sunday
Phone: 517-655-2777  ♦  Toll Free: 877-655-6446
Fax: 517-655-2723
If your pet has an emergency after hours, please call your regular veterinarian for an emergency referral to another ophthalmologist, as we do not provide after hours, or weekend emergency services
•••
2020 Office Closures:
Thursday May 21st-Monday May 25th-Memorial Day Holiday
Thursday Sept 3rd-Monday Sept 7th-Labor Day Holiday
Thursday July 2nd-4th of July Holiday
Tuesday Nov 24th-Thurs Nov 26th-Thanksgiving Holiday
2 WEEK CLOSURE: Monday Dec 21st-Sunday Jan 3rd
---
"…that light shall prevail over darkness…"
-motto of the American College of Veterinary Ophthalmologists